Loan Scams: wilmerfinancialgroup.com, Wilmer Financial Group
Loan Scams:
wilmerfinancialgroup.com,
Wilmer Financial Group
Did you look for a loan from Wilmer Financial Group at wilmerfinancialgroup.com? Did they offer you a debt consolidation loan, student loan, mortgage, small business loans or a great credit card rate? The rate is incredibly low, they say they need very little documentation and can get you money fast? It is probably a scam. The offer and their websites may even look real, except they will quickly ask you for personal financial information, social security number, bank account numbers, in addition to your name, address, phone numbers, etc.
Also see this page on Scholarship, Student Loan and Financial Aid scams!
---
Actual scam email (One example - the scammers constantly change names, dates and addresses!):
I have been looking for a lending company to give me a loan. I came across a website searching the internet and found wilmerfinancialgroup.com. They said I could have a $10k loan if I was to pay 4 payments in advance. The loan documents that I received listed an address that I checked out. The USPS did not recognize the address as deliverable, and when I googled the address and used the satelite imaging of the address given, it was an empty lot - and I mean just a dirt area. When I emailed the loan agent about my concerns over not being able to find the company on the internet and the fact that I googled the listed address and not even a building existed where the address was listed I never heard back from vian email, but he sure called me plenty of times on my phone that I never answered. He said I was elligble for a $10K loan if I gave them 4 payments upfront after a $950.00 payment via wire transfer that I was to make at a local Walmart. During conversations with the fake loan officer, I was informed that they were in Nevada; but when I asked him what local time he had, he could not tell me. I am in Michigan. Wilmer Financial Group is a fraud. And I am so glad that I had the forethought, even in my desperation to get a loan, to check them out. I just want to warn others that this company does not exist with the BBB of Nevada, Dunn & Bradstreet, and when you search them, you cannot find anything on them!! The number listed is answered by a Genie answering system and when you select any other ext other than the one listed by Michael Goldberg, you get a response saying "that extension does not exist." I just want to warn others!!
---
Addition information
We searched in Google for both "Wilmer Financial Group" and "wilmerfinancialgroup.com". There were no related results for either searc. That alone should send up a warning flare!
We visited the website at wilmerfinancialgroup.com. Here is what we saw: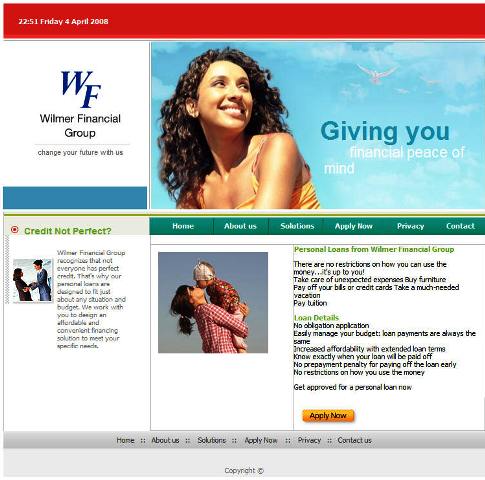 Notice the very generic information; the absence of phone numbers, email address, physical address, etc. The contact us link simply goes to contact form that merely asks for name, email address and comments. This is obviously not the website of any competent company. Now, we ask ourselves, is it a scam.
Given the report from the victim, there's only one more thing to check, a whois report on the domain:
Registration Service Provided By: ROSEPARK TELECOM INC.
Contact: +000.0000000

Domain Name: WILMERFINANCIALGROUP.COM 

Registrant:
    PrivacyProtect.org
    Domain Admin        (contact@privacyprotect.org)
    P.O. Box 97
    All Postal Mails Rejected, visit Privacyprotect.org
    Moergestel
    null,5066 ZH
    NL
    Tel. +45.36946676

Creation Date: 25-Mar-2008  
Expiration Date: 25-Mar-2009

Domain servers in listed order:
    rosepark.mars.orderbox-dns.com
    rosepark.earth.orderbox-dns.com
    rosepark.venus.orderbox-dns.com
    rosepark.mercury.orderbox-dns.com


Administrative Contact:
    PrivacyProtect.org
    Domain Admin        (contact@privacyprotect.org)
    P.O. Box 97
    All Postal Mails Rejected, visit Privacyprotect.org
    Moergestel
    null,5066 ZH
    NL
    Tel. +45.36946676
Given our past experience, several things jump out at us: a private domain used to hide the owners name and address (this is not customary nor appropriate for a for profit public business) and the registration in the Netherlands is commonly used by scammers.
---
Conclusion.
This is a SCAM. It appears as though the are violating a number of federal US laws. We will ask the victim to make a report with the FBI for prosecution.
---
What to do
We advised him to file a police report, call the FBI and file a complaint with the state attorney general and the Better Business Bureau.
No legitimate loan business would use a Western Union wire for this type of transaction. Since it appears as though a crime has been committed, you should start by filing a report with your local police. They may direct you to the FBI. If you want to simultaneously contact the FBI, here is how to find the local FBI office: http://www.consumerfraudreporting.org/FBI_LocalOffices.php .
If you paid any money via credit card, contact your credit card company immediately and ask to dispute the charges (generally they must be within 60 days). If you paid by Western Union or Money Gram, it is almost impossible to recover the money.
If the company that defrauded you is located in the United States or Canada, file a complaint with the www.BetterBusinessBureau.org ; they are pretty effective at getting refunds from legiitimate companies (obvious not successful with criminal scammers).
And finally, you can contact your state attorneys general office to notify them to the scam. See this page: http://www.consumerfraudreporting.org/stateattorneygenerallist.php
---
How do loan scams work?
The scammer sends you an email or letter, or you respond to an advertisement on tv, radio, newspaper, magazine or online. The ad often uses the names of large, reputable and well-recognized lenders. To respond to the advertisement, victims are directed to call a "third-party consultant" who solicits application information including social security numbers. During this telephone call, the "loan" is always approved.
The "third-party consultant" then faxes a loan package to the victim, or directs the victim to a website to enter the information. The package includes a request for bank account information.
Finally, victims must wire a required advance payment or a deposit through Western Union or Money Gram to the consultant. The victim never obtains a loan, and the scammer disappears with the application fees and down payments.
See this page for much more information about this type of scam.
---
How to report a loan scam
---
Loan Scam names
Other related information