Scam Website Complaints: Review of Product Test Panel, www.productevaluationservice.com, Consumer Research Corporation
Scam Website Complaint
Review of Product Test Panel, www.productevaluationservice.com, Consumer Research Corporation
"Get a Free Garmin Nuvi GPS by acting as a product evaluator"
Have you used Product Test Panel, www.productevaluationservice.com, Consumer Research Corporation? We have received a report that it is a scam, and provide our review below. We'd like your experiences (good or bad) about Product Test Panel, www.productevaluationservice.com, Consumer Research Corporation, as well.
When we receive an inquiry about a website, like Product Test Panel, www.productevaluationservice.com, Consumer Research Corporation, we first look for the signs of both a scam and a reputable company. There is no one indicator that is proof positive of a scam, but if a website exhibits a number of these, we rate it is a likely scam. See this page for our checklist of some of the things we look for.
---
We heard that Product Test Panel, www.productevaluationservice.com, Consumer Research Corporation, was giving away Garmin Nuvi GPS units, just for acting as a product tester / evaluator.
---
Our investigation
This seems simply too good to be true. Their Google advertisement posted on a GPS website says you can have a FREE Garmin GPS, simply for acting as a tester / evaluator, and meeting a few qualifying conditions.
We clicked on the ad, and saw this page, which said nothing about being a "product evaluator", but rather said it would be "free with reward offer purchases":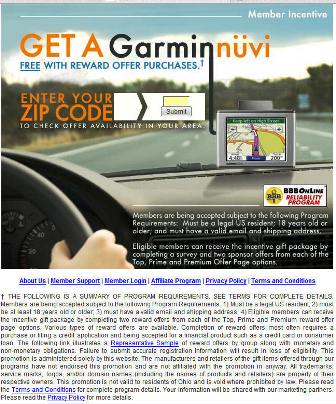 The fine print says (we highlighted key passages):
THE FOLLOWING IS A SUMMARY OF PROGRAM REQUIREMENTS. SEE TERMS FOR COMPLETE DETAILS. Members are being accepted subject to the following Program Requirements: 1) Must be a legal US resident; 2) must be at least 18 years old or older; 3) must have a valid email and shipping address; 4) Eligible members can receive the incentive gift package by completing two reward offers from each of the Top, Prime and Premium reward offer page options. Various types of reward offers are available. Completion of reward offers most often requires a purchase or filing a credit application and being accepted for a financial product such as a credit card or consumer loan. The following link illustrates a Representative Sample of reward offers by group along with monetary and non-monetary obligations. Failure to submit accurate registration information will result in loss of eligibility. This promotion is administered solely by this website. The manufacturers and retailers of the gift items offered through our programs have not endorsed this promotion and are not affiliated with the promotion in anyway. All trademarks, service marks, logos, and/or domain names (including the names of products and retailers) are property of their respective owners. This promotion is not valid to residents of Ohio and is void where prohibited by law. Please read the Terms and Conditions for complete program details. Your information will be shared with our marketing partners. Please read the Privacy Policy for more details.
We entered a zip code and saw this page: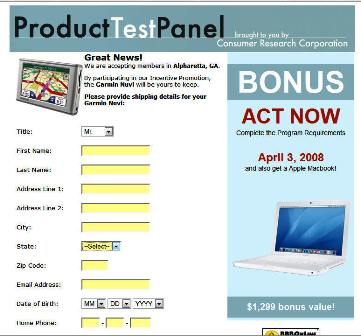 Notice the fine print at the bottom of the page:
Various types of sponsor offers are available. Completion of sponsor offers most often requires a purchase or filing a credit application and being accepted for a financial product such as a credit card or consumer loan. Participants must be residents of the United States and at least 18 years of age in order to be eligible for the program. Failure to submit accurate registration information will result in loss of eligibility. This promotion is administered solely by this website. The manufacturers and retailers of the gift items offered through our programs have not endorsed this promotion and are not affiliated with the promotion in anyway. All trademarks, service marks, logos, and/or domain names (including the names of products and retailers) are property of their respective owners. This promotion is not valid to residents of Ohio and is void where prohibited by law.
Their terms include:
"In cases of a financial offer such as a credit card, the card must be activated by making a purchase, balance transfer or cash advance in order for the offer to be considered "completed", and the user must remain a card holder for at least 60 days. For paid retail offers you must accept the item/service and pay in full. Additional terms and conditions may apply to participation in select marketing offers. You should read the terms of each offer as provided by the advertiser for an explanation of these terms where they exist.

PTP reserves the right to require individuals to provide documentation demonstrating they have completed the advertiser requirements prior to incentive gift redemption in cases where that information is unavailable from the advertiser.

You have up to ninety days from the original date of your membership registration to complete the membership incentive program and redeem your incentive gift. Your gift eligibility is secured as soon as you complete two offers from each of the three offer groups and submit your Redemption Request Form. Once you meet the offer completion requirements, you will need to login to your account to print off your redemption certificate. Once we have received your verification, your gift will be sent within thirty days. Gift redemptions are limited to one gift per household. If you have registered for multiple membership incentive gift promotions, you will be given your choice of gift items upon the submission of your Redemption Request Form.

Please note that it may take up to eight weeks for our marketing partners to report to us that you have completed their offer. "
Whois information:
Registrant:
SubscriberBASE Holdings Inc.
3830 Forest Drive #207
Columbia, SC 29204
US
(803)790-8381
Domain Name: PRODUCTEVALUATIONSERVICE.COM
Administrative Contact:
Admin, System contact@dnshandler.net
3830 Forest Drive #207
Columbia, SC 29204
US
(803)790-8381
Record expires on 12-21-2008
Record created on 12-21-2007
Domain servers in listed order:
NS1.ONLINEINCENTIVEDIRECT.COM 208.38.152.6
NS2.ONLINEINCENTIVEDIRECT.COM 208.38.152.7
---
Conclusions:
"Free, with purchases"? That's an oxymoron - a contradiction in terms. Either something is free or it isn't. Free, but you must by something isn't free; instead it is a disguised cost!
Haven't we seen this before? Yes, it's the old Shopper's Saving Center bait and switch! See this page about that scam.
This is clear misrepresentation - their Google ad and the web landing page lead you to believe that you can get a Garmin Nuvi GPS for free. Only in the fine print do their terms state you must successfully complete several offers, which include signing up for and using a new credit card and or taking out a loan. Somehow, we suspect neither of those offer the best rates!
Look at the terms. If we are doing the math correctly, it is almost impossible to comply. You must have and use the credit cards for 60 days BEFORE they are qualifying. Their partners may take up to 56 days to report that you successfully completed an "offer".
But you have only 90 days from sign up to complete the offers. Which means if they reject any, for any reason, you have to start all over again. But by then you are stuck with loans and credit cards you probably didn't want!
For these reasons, we rate this "offer" a SCAM!
---
Get-Rich Scams and Work-From-Home Schemes Unmasked!
See our page that lists the most common get-rich schemes
---
Reporting a Fraudulent Business Website
Of course, in all cases, you can start by reporting it to us, using this form. We will use the information to warn other consumers and help you to direct it to law enforcement agencies.
A catch-all for bringing internet scams to the attention of the FBI and FTC is the U.S. government's Internet Crime Complaint Center (IC3) at Internet Fraud Complaints Center. If you are looking for your local FBI Office Listings to report a crime or scam, click here.
Do you want to report a fraud, scam or crime to the FBI (the Federal Bureau of Investigation), but can't find the phone number for your nearest local FBI office? See this page to find the closest office!
---
For other government agencies to report scams, see this page. And of course, write us! We are always interested in hearing about any potential scams!