ATM Card Scam Email: Yahoo Beta Promo - Dr Emma Rothschild, has an ATM card for you
Scam ATM Card Payment Money Transfers
Example - Yahoo Beta promo via Swift Card Payment
Dr Emma Rothschild, Jim Koijam,
This is to inform you that your mail and contact address was noted to my office in respect to your ATM Card payment for this month Yahoo Beta promo, which was approved by the board of directors
Have you received an email from "Dr Emma Rothschild" at Yahoo Beta promo, claiming "This is to inform you that your mail and contact address was noted to my office in respect to your ATM Card payment for this month Yahoo Beta promo, which was approved by the board of directors" and they will send you the money on an ATM card, if you contact "Jim Koijam"? If the fact that you have never heard of a lottery, refund or promo from Yahoo Beta or Swift Card Payment doesn't immediately strike you as a scam, then allow us to point out more inconsistencies and how the scam works.
Also notice that the "official" or "lawyer" is writing to you from a free email account (Yahoo, Hotmail, etc.); in fact, they typically use more than one different free email accounts.
Look, however at the pretty certificates they send. Ooh! Doesn't that look official? It's fake; any child can make that with "Print Shop".
Of course, even if what is presented in the email were true; you would be committing several felonies, including fraud.
If you would like a step by step explanation of how this type of "Advance Fee Fraud" works, click here!
---
Scam email from "Dr Emma Rothschild":
Attn: <your name>.,

This is to inform you that your mail and contact address was noted to my office in respect to your ATM Card payment for this month Yahoo Beta promo, which was approved by the board of directors. Stating categorically that all beneficiary most receive their fund this way. So you are officially advice to go through the mail to act accordingly as instructed.
With respect to the provision Section 17 of decree 114 of the 2007 memorandum of understanding, I am directed to inform you that your payment verification and confirmations as stipulated herein has been accomplished.

Therefore, we are happy to inform you that arrangements has been concluded to effect your payment today in our bid to be transparent in line with program of empowering individuals around the world on economic growth, education and good health for your loyalty to Yahoo network.
It is our pleasure to inform you that ATM Card Number; 5428050011004432 has been approved and upgraded in your favor. We are duly inter-switched and you can make withdrawal in any location of the ATM Cashing point of your choice.

We have also concluded delivery arrangement with our accredited courier service Company: Excel Couriers Services/Securities to Deliver your ATM Card without any further delay. Will be fully insured by Nicon Insurance Corporation In view of this development, you are requested to immediately offset the Courier and Insurance charges of GBP £350.00 (Three hundred and fifty British pounds sterling only) through the Company that will deliver your ATM Card as we also remind you again that your ATM Card has being submitted this Morning so I will advice you to contact them today with this email address below immediately for the Delivery Of your ATM Card, OR you come to London to receive your Card.

Name: Jim Koijam, The Director of Insurance and Delivery
His email is: jimkoijamesq@yahoo.com
Tell: +447045765583

Be informed that your ATM Card will be sent to your address: <your address here>


Within 48 hours of the confirmation of this payment By the Delivery company. Be Aware that the delivery fee receipt will be attached to your payment delivery documents to avoid being delayed at point of delivery in your country.
Advice the Delivery office of your preferred time of delivery to your address as stated above. Be informed that your valid ID card must be presented to the dispatchers before they will release your ATM Card to avoid wrong delivery.

Finally you are advice to keep attached copy of Fund Release Order and will be used for final Endorsement at point of delivery, bear it in mind that these documents are backup proof that you are the beneficiary to the said Fund.

Regards,
Dr Emma Rothschild,
Director, Swift Card Payment Consults.
3 Whitehall Court, London SW1A 2EL.
Tel: +44 703 190 3649
---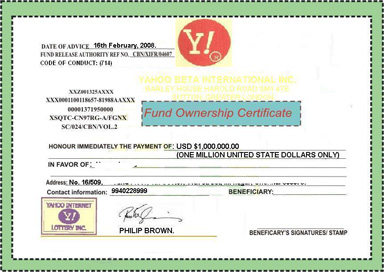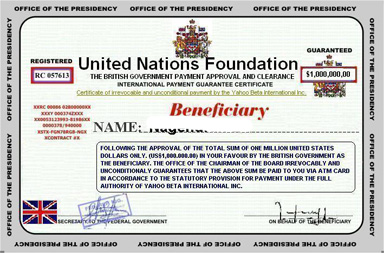 *