Lottery Scams: Free Lotto / PlasmaNet
Lottery Scam Email:
"Free Lotto"
Kevin J. Aronin
Chairman & CEO , PlasmaNet Inc
FreeLotto says they aren't sending out the scam email below (see this page on the Free Lotto / PlasmaNet website). And for more information about "FreeLotto" see this page. Either way, we suggest you avoid anything to do with "Free Lotto" and PlasmaNet.
While the email below is most probably the work of AFF scammers in Nigeria, so-called "free" lotteries always have a price for you to pay. Often, it is opening the door to spam and a huge amount of advertising, many of them scams.
If you have signed up with Free Lotto and have any experiences or opinions to share, please tell us about them!
---
Example of excerpted portions of the "Free Lotto" email
Dear John Doe,
You are receiving this message because you joined FreeLotto on Wednesday November 8th, 2006, from IP Address 59.95.21.176. When you registered you agreed to receive messages from FreeLotto. FreeLotto NEVER sends JUNK or SPAM messages. We never send mail to anyone unless they requested it when they registered. If you somehow didn't understand that you were agreeing to receive messages from us at the time you joined PLEASE CLICK HERE TO BE PERMANENTLY REMOVED FROM OUR LIST. In doing so you will also cancel your FreeLotto membership and you will no longer be eligible to play FreeLotto or receive up to $11,000,000.00 in daily prizes. We regret any inconvenience.
Thank you,
FreeLotto Member Services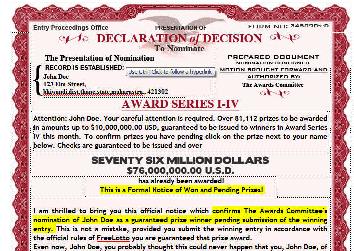 A typical report of this scam goes like this:
We received an email from "Peter Taylor" in the UK saying that my wife won 516 778.00 pounds.

The name and address given was:

The Free lotto sweepstakes
12 bridge street ,staines middlesex
tw18 4tp
United kingdom

His contact number is +447045798428

Also he gave us e-mail adresses of jrblockhead@adelphia.net and mrpetertaylor@gmail.com
---
Names of Scam / Fake / Fraud Lottery
Click here for the huge list of the names of the currently identified lottery scams companies
***