Fifth Third Bank Phishing Email and Other Scams
Phishing - The Fifth Third Bank Email Scam
This is not scam created BY Fifth Third; they are a victim as well. If you receive an email similar to the one below, DO NOT click on the link, and do not enter any information on the forms there. The link may LOOK like like the right website (http://www.53.com/wps/confirm/cbupdate/) but the that's just the visible display text. As proof, click on the link for 53.com above. Yes, maybe that is a Mickey Mouse way to demonstrate it, but you get the picture now.
The website that the link leads to is a spoof; a fake website, not created by Fifth Third. When you reply to the email or enter the information they ask for, you will simply be handing the thieves the keys to your bank accounts. That is how spoofing and phishing works.
Remember, no reputable business would send you an email requesting your personal account information. Any such email you receive asking for this information should be considered phony and brought to the attention of the business being 'phished'.
Anytime you need to go to a website for your bank, credit card companies or other personal, financial or confidential information; do not follow a link in an email; just type their address in your browser directly (such as www.53.com )
Below are actual phishing emails that started circulating in late 2005. We have removed the links to the phisher's website.
Fifth Third does not contact customers vian email, phone or mail to request or verify security information about passwords or personal identification numbers (PINs). If you call them, for your protection and privacy, Fifth Third representatives will ask for certain information to verify your identity. But they won't ever call you and ask for this information.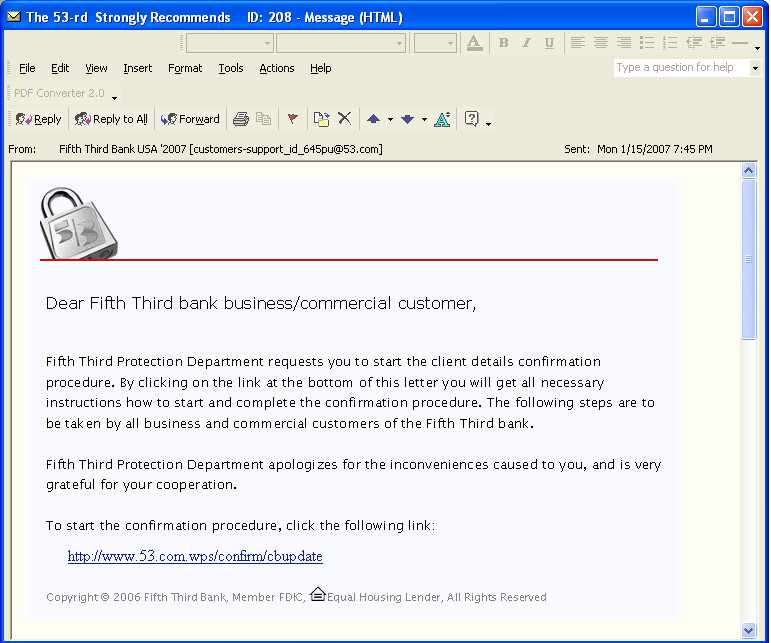 See this page on the Fifth Third Bank website for more information about the scams. Fifth Third Bank advises:
"If you need assistance or discover any suspicious online sites, emails, or other fraudulent activity involving your account, please call our Bank Protection Department at 1-800-927-0395 Monday–Friday from 8 AM–6 PM ET. If calling after hours, leave a message and your call will be promptly returned during normal business hours. You may also contact us securely via our website 24 hours a day, seven days a week."
Here is another example: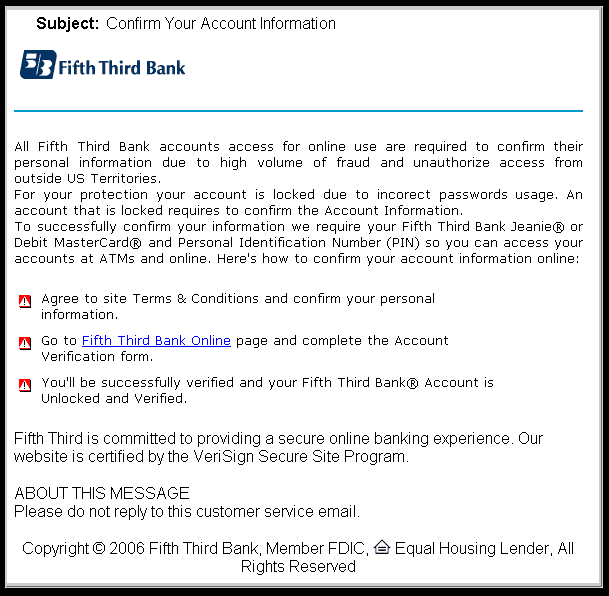 For more information about phishing, see this page.