Suspicious Job and Recruiting Emails - Scout 2007 or ScoutsJobOpportunity2007.com
Job and Recruiting Emails: Scout 2007 or ScoutsJobOpportunity2007.com
Have you received an recruiting email like the ones below, claiming to be from
Brian Egelton at Scout 2007, Scout, ScoutJobOpportunitites.com
or many others variations of "scout" and "jobs"?
We believe this is simply a scam. We have yet to hear from A SINGLE PERSON who has received a job through them. If you have received a job through Scout 2007 or ScoutsJobOpportunity2007.com, (or any of their many website variations) or have anything positive to say about them - PLEASE WRITE US! So far, all we have seen is very suspicious, at best.
CFR RECOMMENDS THAT YOU DO NOT GIVE THEM ANY PERSONAL INFORMATION UNTIL WE CAN CONFIRM MORE INFORMATION ABOUT THEM! BASED ON THE QUESTIONS THEY ASKED, IT LOOKS LIKE TRYING TO SELL LOAN SERVICES! Another possible goal appears to be referral fees by getting you to sign up for online colleges. We can't tell WHAT they are up to, but, as stated above, we can not find anyone who has received a job through them, nor any means to contact them, to hear their side of the story. If they ARE legitimate, then they certainly act in very suspicious ways!
Do you have a resume posted online? We'd like to hear from you about your experiences recruiting emails that turned out to be scams or misleading - click here to write us.. We suspect these are possibly a new wave of identity theft attacks.
Note: There ARE legitimate recruiting and employment firms on the internet, and some with very similar names to those above. We recommend you check any company out before you give any personal information to them. If they do not have a posted address and phone number, or don't answer the phone, don't give them any personal information! The legal recruiters will be happy to give you contact information, return calls and act in the open!
---
What to do, if you DID fill out their form:
Report it to the following government agencies:
---
Below are a number of these suspicious emails received by our staff:
This one circulated late summer 2007: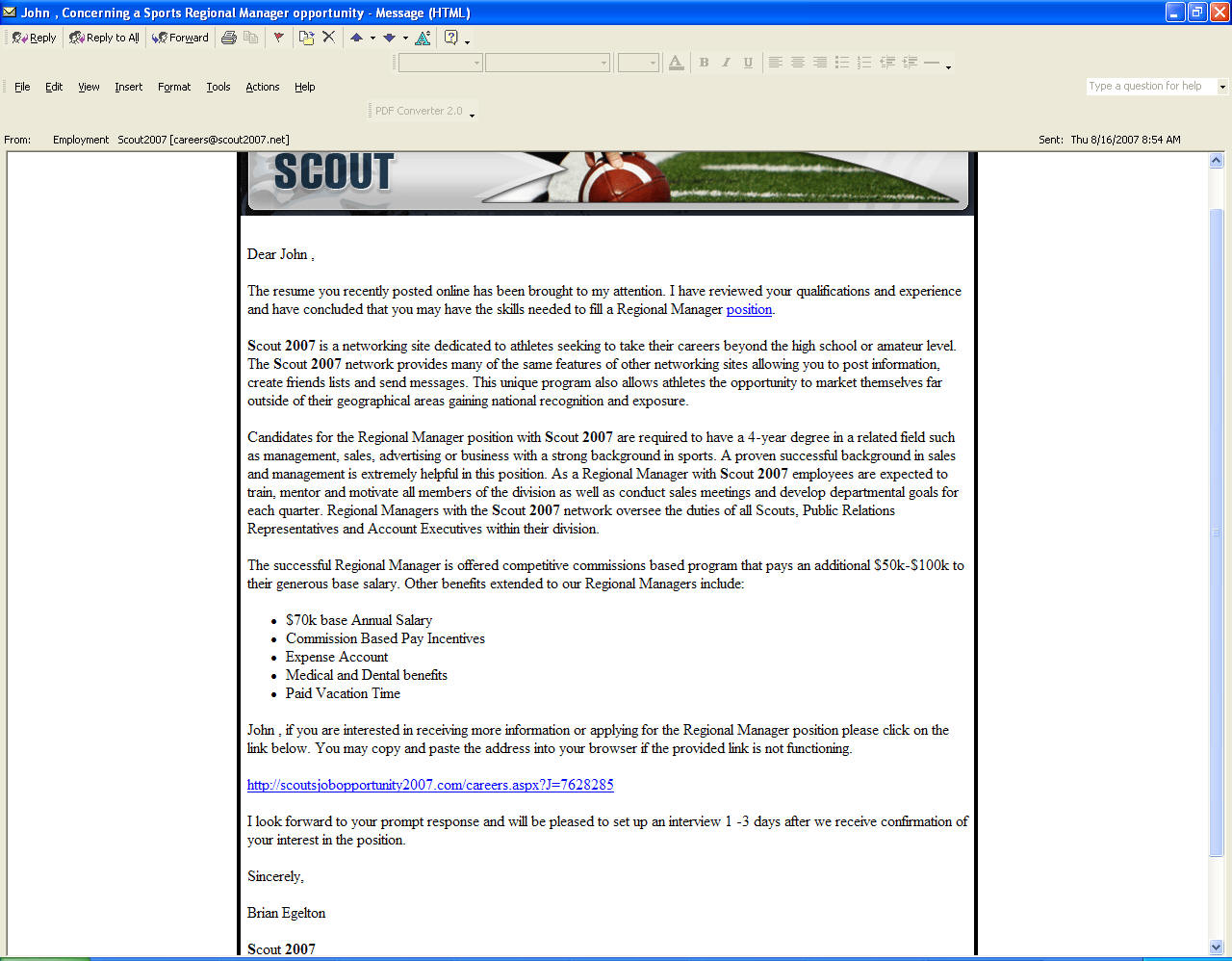 Dear John ,

The resume you recently posted online has been brought to my attention. I have reviewed your qualifications and experience and have concluded that you may have the skills needed to fill a Regional Manager position.

Scout 2007 is a networking site dedicated to athletes seeking to take their careers beyond the high school or amateur level. The Scout 2007 network provides many of the same features of other networking sites allowing you to post information, create friends lists and send messages. This unique program also allows athletes the opportunity to market themselves far outside of their geographical areas gaining national recognition and exposure.

Candidates for the Regional Manager position with Scout 2007 are required to have a 4-year degree in a related field such as management, sales, advertising or business with a strong background in sports. A proven successful background in sales and management is extremely helpful in this position. As a Regional Manager with Scout 2007 employees are expected to train, mentor and motivate all members of the division as well as conduct sales meetings and develop departmental goals for each quarter. Regional Managers with the Scout 2007 network oversee the duties of all Scouts, Public Relations Representatives and Account Executives within their division.

The successful Regional Manager is offered competitive commissions based program that pays an additional $50k-$100k to their generous base salary. Other benefits extended to our Regional Managers include:
$70k base Annual Salary
Commission Based Pay Incentives
Expense Account
Medical and Dental benefits
Paid Vacation Time
John , if you are interested in receiving more information or applying for the Regional Manager position please click on the link below. You may copy and paste the address into your browser if the provided link is not functioning.

http://scoutsjobopportunity2007.com/careers.aspx?J=7628285

I look forward to your prompt response and will be pleased to set up an interview 1 -3 days after we receive confirmation of your interest in the position.

Sincerely,

Brian Egelton

Scout 2007


Do_not contact me with future_employment_offers

---
Other Jobs Scams
There are a variety of sleazy scams that look, at first glance, like legitimate job offers. Before you write back to them, pause a moment and read about the scams below!
Some of the more common job scams are